Activity Programming
The young individuals living with us participate in recreation every day. Our beautiful ranch has ample facilities for residents to get involved with everything from athletics to farm and animal care.

Equine Services
Oak Hill Ranch is proud to offer informal components of Equine Learning for the young people that live with us. Building relationships with our horses provides tremendous benefits for both physical and mental health and is a valuable part of therapy.
Includes learning how to ride and care for horses. These activities are planned and purposeful by teaching problem solving, self efficacy, social communication, non-verbal communication, and interpreting body language.
Equine Assisted Learning uses horses for experiential growth and learning. The participants work with the horses strictly on the ground to address learning goals. Young people build on and learn: trust, responsibility, respect, gratitude, empathy, teamwork, and problem solving.
The participants work with horses strictly on the ground for mental health treatment, building their story using metaphors in relation to their current and past life situations. Horses mirror human body language allowing participants to learn to understand themselves through how the horse is acting. Providing opportunities for participants to externalize problem situations and engage in discussions and actions that develop new possibilities and opportunities for their future.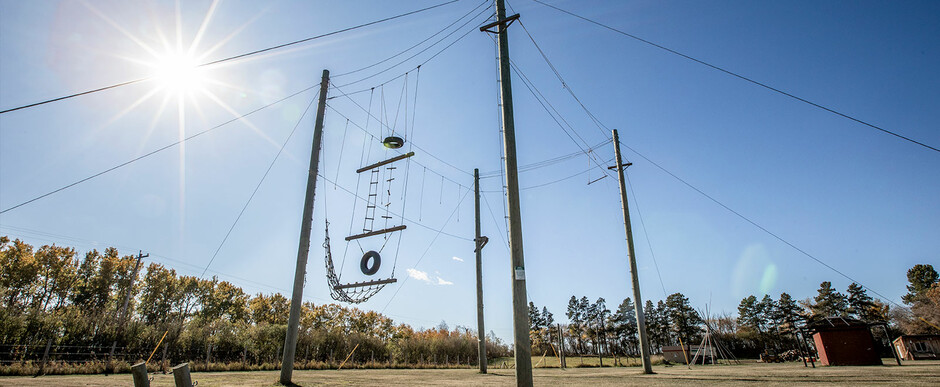 High Ropes and Low Ropes
Adventure based programming provides opportunities for interpersonal growth. Young people enter an experience where the outcome, although uncertain, is influenced by their skills, knowledge, and abilities. Our goal is for young people to be able to transfer their learnings from the adventure experience to their everyday lives.
develop communication skills
problem-solving skills
patience
leadership
working together
sharing ideas
group efficacy
self efficacy
sense of belonging
group cohesion
developing cooperative group skills
personal growth
self-esteem
locus of control
resiliency

Farm & Animal Care
We have a small farm operation that is specifically designed for therapeutic purposes. Young people gain knowledge and skills in farming by taking care of the animals and contributing to the farm. The farm currently consists of:
horses
steers
pig
cats
goats

Athletics
Athletic skill development and training is provided by previous professional athletes with physical education backgrounds. Young people can develop skills in a range of athletics such as:
Football
Rugby
Soccer
Baseball
Basketball
ice hockey
Nordic skiing
Volleyball
Badminton
floor hockey
Athletics brings a number of benefits into our therapeutic process, including: 
promotes physical fitness and health
helps residents develop skills in team-building
helps generate positive attitudes to successful learning and skill development that is transferable to other situations
assists in increasing residents' self-esteem
Community Sports
We have our own community soccer team and school basketball team. We are connected to community soccer programs, football programs, karate organizations, and hockey organizations. Young people living with us are able to compete in community sports. We have seen our residents establish community friendships and also build a strong personal connection with team sports that they often continue to participate in once they return home.
Outdoor Adventure Activities
Outdoor Adventure activities provide lessons in safety, basic competency, ecology, survival and geography. In addition to these lessons, young people also gain experiences that broaden their world view.
We offer several outdoor adventure activities such as: 
Downhill skiing at Marmot Basin
Mountain camping and hiking
Week-long summer camps at Jarvis Lake near Hinton where residents enjoy swimming, fishing, canoeing, and hiking